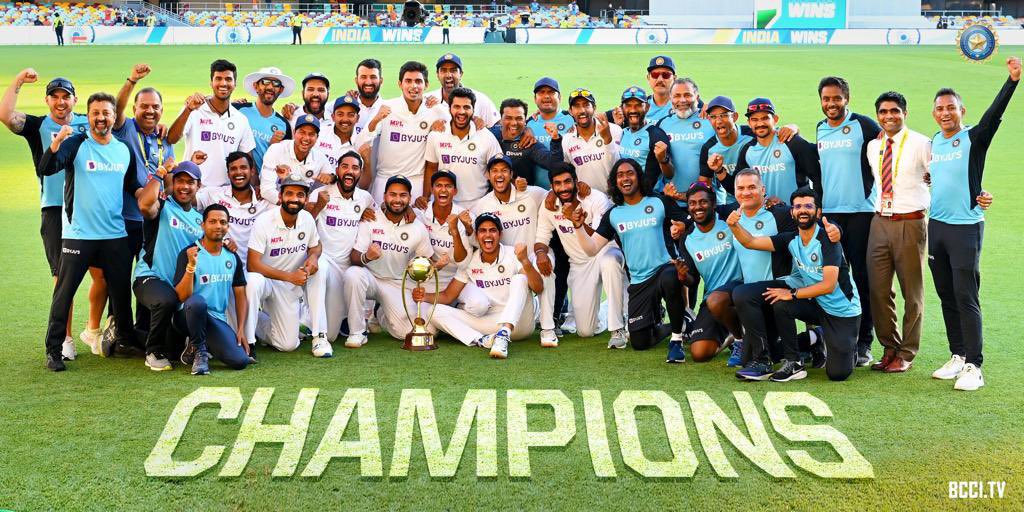 (Image Credit: BCCI TV)
Inglorious epitaphs were penned when India folded up in spectacular fashion for a paltry 36 in Adelaide. Exactly a month following this debacle, epigrammatic paeans are being scripted, some by the same scathing pens, as India has incredibly managed to not just come back from the dead, but also inflict upon the hosts their first ever defeat in Brisbane since 1988. History, in general is biased against interludes, choosing to focus instead, on beginnings and ends. Yet, it is interludes that bridge zenith and nadir, and link triumphs with tribulations. The pause between the humiliation at Adelaide, and proudly holding up the Border-Gavaskar Trophy in Brisbane, has been for Ajinkya Rahane's ragtag assemblage, one punctuated by injuries, interspersed with battles of attrition, sprinkled with yet more injuries, and assailed by off the field provocations and uncivil riling. Yet, this motley crew, choose to embrace such an eventful hyphenation in its stride, preferring to concentrate more on cause, than be rattled by consequence. This Eckhart Tolle kind of serenity that put mind over matter lent a surreal equilibrium between sagacity and success. The skipper himself, has been a purveyor of equanimity. Possessing a perpetual sagely demeanour, he has demonstrated that he could be impervious to pleasure and impermeable to pain.
Considering the fact that the Indian team was more a nomadic band of the walking wounded than a well-oiled fighting machine, it was a veritable miracle that eleven cricketers with fully functional limbs lined up to the strains of the Indian national anthem on the 15th of January. Only the captain, and the dour Cheteshwar Pujara had played all three previous tests. Ample monument to the injury woes of the touring team. Making their daunting debuts were Washington Sundar and T. Natarajan. As seems to be the unfortunate wont of Rahane, he promptly lost the toss and Tim Paine had no qualms in electing to bat first. Paine had mockingly dared Ravichandran Ashwin during the course of the latter's epic resistance at Sydney in the Third test, to lock horns with the Australians at the Gabba. Ashwin's truant back further exacerbated the uncomfortably long list of the injured and hence he was restrained from taking up the gauntlet thrown at him by Paine. The Gabba, also known as the Gabbattoir (a clever take on the sombre word Abattoir), was Australian cricket's metaphor for invincibility. The last visiting team to scalp a victory over the Aussies at the Gabba pulled off this feat more than three decades ago. Analogous to tech speak, if the Gabba was a Digital Fortress, then the Indian team was attempting to hack a state of the art technology using archaic tools such as punch cards and outdated language in the form of BASIC. But what is cricket after all, if not sticking to the basics?
Despite the fidgety Marnus Labuschagne chalking up a frenzied century, and Tim Paine contributing an assured 50, the rookie Indian bowling outfit managed to prevent the Aussies from going on the rampage, curtailing the innings to 369. Before the Test began, an astounding statistic doing the rounds on social media, captured the yawning gap, nay chasm, in experience separating the two teams. While the combined Indian bowling attack of Mohammed Siraj, Navdeep Saini, Shardul Thakur, and Natarajan had 14 wickets against their name, their competitors in the form of Pat Cummins, Josh Hazlewood, Mitchell Starc and Nathan Lyon had collectively notched up a gobsmacking tally of 1013 wickets in international cricket! Statistics though, can be overwhelming only for those who opt to peruse them! From the stirring performance of India's bowlers, it may be safely inferred that in both attention and attitude, the young pacemen were far removed from such weighty numerical details. While Natarajan and Shardul accounted for 3 wickets each, it was the 21 year old Washington Sundar who was a revelation. If not as exotic as his name, his bowling was engaging enough to outfox three obdurate Australian batsmen, including the run machine Steve Smith (Sundar's first wicket in Test Match cricket). The sorcerer seemed to have found his apprentice.
In reply, the Indian innings was soon reduced to 186 for 6 after a refreshingly breezy start, in the wake of some relentless hostility from Cummins and Hazlewood. With the prospects looking as bleak as the ominous overhang of the notoriously dark Brisbane clouds, Shardul Thakur, joined Washington Sundar at the crease. The predators were all set to finish their prey off. The ability of India to bounce back from adversity has undergone a Kafkaesque metamorphosis in this series. What earlier was an occasional feature now seems an ingrained habit. Gabba was no exception to this newly sculpted norm. Sundar and Shardul held the formidable Aussie attack at bay for a frustratingly long time as they proceeded to add 124 invaluable runs for the seventh wicket, a record for India at Brisbane. While Sundar drove and flicked with elan, Shardul pulled and cut with panache and flair. When Pat Cummins finally got a ball to nip and peg back Shardul' s stumps, India had progressed to 318, trailing the Aussie total by just 51 runs. Expectedly, when the tail failed to wag and after Sundar too perished trying to accelerate the scoring, the end was nigh. The final wicket fell with India conceding a lead of 33 runs.
In trying to force the pace, the Aussies went for some quick runs in their second innings. Smith and David Warner were aggressive, and Marcus Harris lent a token glimpse of his potential. A total of 294 meant that India had to score the highest ever fourth innings score at the Gabba to notch an improbable victory that would put them on the same pedestal as Sir Viv's powerful squad of 1988-89 in terms of records. In the alternative India could just forget about getting 328 runs and play out time. From an Indian perspective, a draw was as good as a win, since they would be successfully retaining the Border-Gavaskar Trophy in the event honours were evenly split. Siraj donning the mantle of the lead fast bowler in only his third test match, picked up a memorable five-for emulating the earlier exploits of Josh Hazlewood.
The fifth day began on an inauspicious note for the visitors as Rohit Sharma departed without even flattering to deceive, edging one from Cummins to Paine. What followed next was an extraordinary passage of play. The fearless Shubman Gill struck some rasping blows, while many a rasping blow did more than just strike Cheteshwar Pujara. Like an incorrigible pugilist thrusting his face forward in spite of being repeatedly punched towards oblivion, Pujara absorbed knock after knock employing inexplicable technique and exhibiting incomparable courage. Eleven stinging deliveries made unsympathetic contact with random parts of his anatomy. Ribs were rattled; fingers were rapped. Elbows and shoulders gamely attempted to stand firm against the onslaught of a barrage of short pitch deliveries that rose like hooded cobras. But the most dangerous ball of them all left Hazlewood' s hand with a devious purpose, and angled into the right hander's helmet with such violence that it almost executed an unbelievable 360 degree spin. A visibly angry Hazlewood was in no frame of mind for niceties, glaring at Pujara before asking, "Did you see that one?" But neither was Hazlewood John Cena and nor was the occasion an elaborate arrangement of fiction. An unperturbed Pujara nonchalantly signaled for a replacement helmet and proceeded to grind away. He was a gigantic sponge that absorbed, assimilated and accounted for all that was hurled at it. Even though Pujara' s exploits might not have been a replica of Brian Close against the fearsome West Indian pacers, there surely would be blue saucers to sport as a badge of honour in the ice bath. The Australians were left to tackle a new breed of resilient cockroach that could be stamped, sprayed, smote and swiped, but never killed.
Gill proceeded on his merry way, even taking Starc for 16 off an over before perishing to Lyon, and falling just 9 short of what would have been a magnificent century. Gill and Pujara had seen India safely through to lunch and Rahane, within moments of arriving at the crease made his intentions pretty clear. Busily accumulating runs, he sashayed down the pitch to Lyon depositing him deep into the vacant stands. However, Rahane's egregiousness got the better of him as he nicked one to Paine in attempting a ramp shot. The stage was set for Rishabh Pant. The pudgy wicket keeper might have been the hero of Sydney, but he had some unfinished business to attend to. Starting off sedately he put only the bad balls away, nudging, patting, flicking, tapping and even shouldering the rest. His intrepid state of mind was on dazzling display when he strode down the track and smote Lyon back over mid on for a huge six. The fact that the previous delivery had after landing on spun away from the batsman and evaded both wicket keeper and first slip seemed not to have influenced Pant's attitude, even a jot!
Two deliveries into the new ball with still a 100 more runs to get, the unflappable Pujara' s immoveable resistance finally met its match. That tireless warrior amongst all bowlers, and the highest wicket taker in the series, Pat Cummins trapped India's No.3 leg before. The workhorse, to his credit had shun all forms of gamesmanship in favour of nagging line and length and was reaping rich rewards for his unwavering commitment. But it took not just the resoluteness of Cummins, but also the benefit of an Umpire's call to send the battered and bruised gladiator back to the pavilion.
When Mayank Agarwal soon followed Pujara, after scratching around for an unconvincing and visibly uncomfortable score of 9, the Australians had their tails up. India still had 63 runs to get for what would be an epochal victory, with 5 wickets in hand. They had 13.2 overs in which to attempt the impossible. For the second time in the match, Washington Sundar was asked to prove his mettle and account for his character. This he did with aplomb. Initially showing the makers name of his broad blade in immaculate defense, he opened up his shoulders at every given opportunity thereby playing the perfect foil to Rishabh Pant, who by now was looking positively in the zone. When Sundar imperiously pulled a ball of searing pace from a wayward Cummins for six, it was obvious for everyone watching that the lad was here to stay. Meanwhile, displaying an exquisite blend of controlled aggression, Pant dispatched the Australian bowling to every part of the ground. The Indians who were supposed to be flattened on the green grass within the confines of a 'fortress' were making the Australians look like a ragged and confused pound shop variants of Rip Van Winkles, who after a long bout of involuntary torpor, had visibly lost all their bearings. When Rishabh Pant drove a ball to the mid-off boundary to finally seal an epochal series retaining victory, it was the bruise to an inflated Australian ego that would more likely than not, have induced more pain than the ones littering Cheteshwar Pujara' s body. The digital fortress had not just been breached, but had been rendered obsolete as well with no room for an upgrade.
The philosophy of the interludes had made possible the transition from boys to men. The practice in the interlude had altered self-doubt to an iron clad self-belief. History would do well to more than merely book end interludes or consign them to a minuscule footnote in fine print hidden by the more alluring chronicles of initiations and outcomes. The time in between the test matches in the indelible Australian series has been one such seraphic interlude. An interlude in which a band of brothers decided to reinvent themselves, reimagine possibilities and rewrite history.
"Did you see that one, Mr. Hazelwood?"